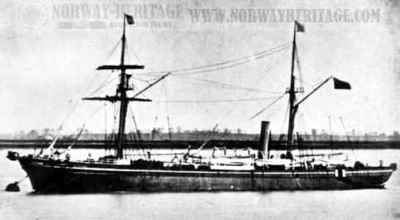 SS Kangaroo
Within days of leaving Italy, Myles Keogh, Dan Keily and Joseph O'Keeffe arrived in Liverpool, England en route to America to fight for the Union Army in a Civil War that had raged for almost a year. In their possession was a letter of endorsement from Archbishop Hughes for presentation to Secretary of State, William Seward.
Water Street, Liverpool, England, circa mid-1850's
At the offices of the Inman Line in 22 Water Street, Liverpool, Keogh and Keily booked passage to New York aboard the Steam Ship,
SS Kangaroo
. They purchased a first class cabin at the cost of $75 and were registered to sail two days later on Wednesday 19th March. The day they booked passage was March 17th - Saint Patrick's Day - and, Liverpool being one of the more Irish-populated cities in England, the festivities must have been something special for two men long since absent from their homeland.
A report of the evening's celebration in a local newspaper makes reference to Keogh and Keily's contribution to the occasion: Father Nugent...saw also on the platform two men who fought nobly in the Pope's Brigade...The gallant defenders of the Pope, at the request of Father Nugent, advanced to the front of the platform, and were enthusiastically cheered. One of them, Lieutenant Myles William Keogh addressed the meeting, and stated that he had only a few hours since arrived in Liverpool from Rome, and hearing that the festival was being celebrated, he hastened to be present (applause). Ten days before he had the pleasure of having an audience with the Pope...Mr. Keogh referred to the festival they were celebrating, and said that "so long as they cherished the glorious reminiscences which belonged to their country, Ireland would never perish. It might be longer or shorter, but sooner or later Ireland would have her own."
On the 19th of March, the 'Kangaroo' stood ready to sail and was boarded by Keogh and Keily. Joseph O'Keeffe would sail the following week aboard the SS '
Etna
'.
The following day, the two Irishmen got as close to Ireland than they had been in two years - the SS '
Kangaroo
' docked in Queenstown, County Cork (now called Cobh) to pick up passengers. A ship called
Titanic
would similarly dock at Queenstown to collect passengers approximately 50 years later.
The local paper reported the SS Kangaroo's arrival along with a 'charming' description of the women who boarded;
Source - The
Cork
Examiner, 20 March 1862 -
ARRIVAL OF THE KANGAROO.
--------
THE steam-ship Kangaroo, outward bound, arrived in
the harbour this morning. She took on board 132
passengers, principally females of the humble class in
life.
The journey across the Atlantic would take almost two weeks and the vessel docked in New York at 5 p.m. on April 1st, 1862. Keogh and Keily were only among 11 passengers who occupied the first class cabins.